The 2015 TriNation meeting will take place at the TCD Hamilton Building which is located at the Westland Row end of TCD campus in Dublin City centre. Use the Pearse Street entrance to access the building. For directions, please use this link: Directions, or see the map below: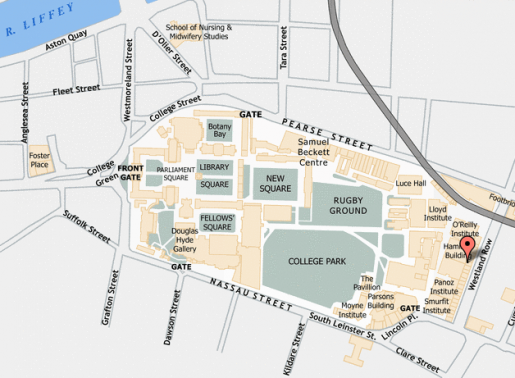 The meeting begins with registration at 8.30 -please be there on time.
For those of you who have booked accomodation at TDC, here is some additional information:
The rooms are located in different areas of campus as there are a few different room types. The guests will be shown to their rooms when they check in at the Accommodation Office, which is located in House 10 in Trinity's Front Square. The Accommodation Office is open from 8 a.m. until midnight, and check in is from 2 p.m. If guests arrive before this time, their bags can be stored until their rooms are ready. Breakfast is served in the Buttery restaurant which is also located in Front Square. Some General Information  can be found here: General Information for 2015 Summer Season (10).